7 New Ways to Use Sweet Potatoes this Fall
This fall, sweet potatoes have been overflowing our pantries. Lucky for us, there are so many tasty ways to enjoy them this season. Whether they're scratched up or windburned on the outside, they all still have that sweet inside that makes you want to cozy up.
This will surely become a breakfast staple. It also just so happens to be an amazing gluten-free alternative to those avoiding bread products. You can also top it any way you want, proving that sweet potatoes are just as versatile as they are healthy.
VIEW RECIPE

Photo: Detoxinista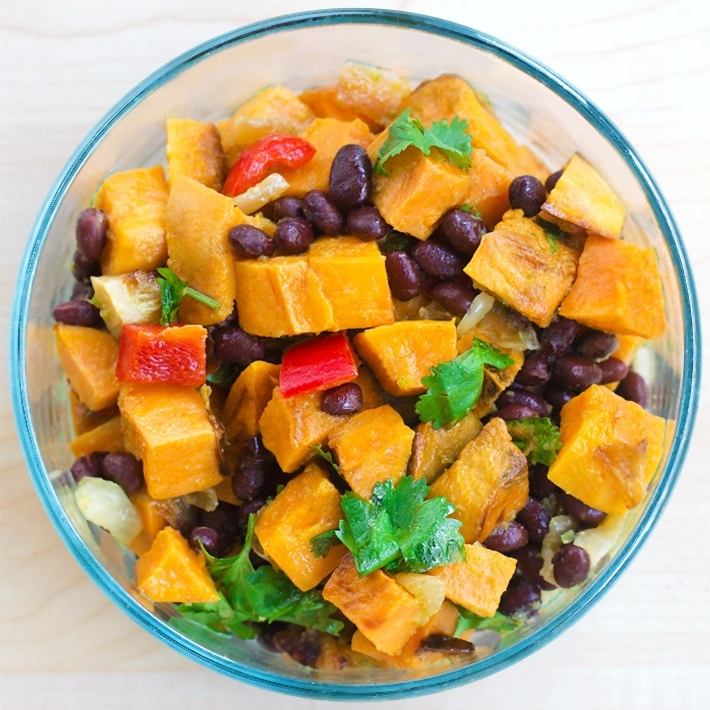 Use them as an alternative to the classic spud in your favorite potato salad recipe. You might just find a new potluck staple.
VIEW RECIPE

Photo: Chocolate Covered Katie
Here we have another way to justify pizza night. By substituting steamed sweet potatoes into your classic crust, you are upping the nutritional ante and becoming the hit of the party all at once.

VIEW RECIPE

Photo: Blissful Basil
4. Three-Ingredient Sweet Potato Gnocchi
It could not get easier. Also, trust us, it is not lacking in flavor. The natural sweetness of the sweet potato really makes this a hit. It would also pair well with a brown butter and sage sauce.

VIEW RECIPE

Photo: Food with Feeling
Did you know you could make gorgeous caramel with just one ingredient? Well now you do, and you bet it's sweet potatoes. This is rich and flavorful and everything you didn't know you needed.

VIEW RECIPE

Photo: James Ranson
Make a holiday dinner spread staple more seasonal with the help of the color and flavor that comes from sweet potatoes. These can be made more savory and served warm with butter.

VIEW RECIPE

Photo: Better Homes & Gardens
I know, kinda odd… but so, so good. With the help from a blender and a sieve, this is sure to bring some new competition to the traditional pumpkin spice latté.

VIEW RECIPE

Photo: Better Homes & Gardens


With it being fall now, grocery stores cannot often accept the surplus that comes from local farms, so make a welcome spot for them in your home. In a cool, dark place, sweet potatoes can last up to a month, making them a welcome staple to any pantry. Also, if you can't get to your sweet potatoes soon enough, cook them and freeze them! Your peeled and chopped scraps can always be a welcome addition to compost. No sweet potato shall be left behind. Now that you know what to do with your sweet potatoes, go forth and savor.