Please go through the photos and familiarize yourself with the OnFleet app:
The Homescreen
From this screen, you can go on or off duty. When on duty, you can see all the tasks in your queue.
Task list
All your tasks will be loaded in order here.
The Map Screen
Access this screen by using the button on the top right. Here you can see all your tasks mapped out. Check it after every stop. You may be going to a neighbor's house, or have multiple deliveries in one location!
Start Task
Before leaving for each delivery, remember to start the task. This alerts the customer that you are on your way, and provides them with an ETA.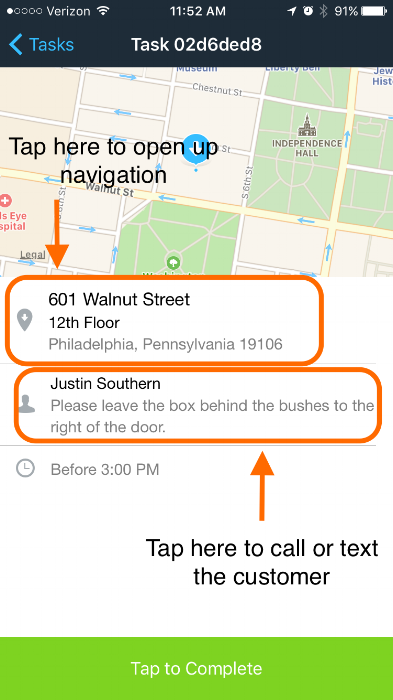 On your way
When on your way, you can access your map application here, or text or call the customer.
Success!
Remember to always take a photo or get a signature. Make sure the photo shows where you left the box.
Failed Tasks
Input a reason for a failed task here. If you didn't mean to hit failure, shut the app down and re-start it, and you will be able to complete it successfully.
Finished!
When you have completed all tasks, remember to go off duty.
Settings
The button on the top left allows you to access settings. You can configure your preferred map application here.