In honor of Earth Day, this April, we're pledging to make the world a healthier place by starting in our own kitchens . . . and we want you to join us.
From going more plant-forward in our meals to making sure nothing gets wasted unnecessarily during meal prep, we've mapped out 30 habits that are healthier for us and our planet.
Download the full calendar to see what's coming and then check out more info on each task every day right here on this page (scroll down!) and on Instagram Stories. Not only will we tell you why these tasks made the cut, but we'll also include personal insights and tips to help keep you inspired & motivated along the way!
When you complete a task, simply share your progress on Instagram or Facebook by tagging us with the hashtag #hungryharvestchallenge
Every time you do, you'll be entered to win one of five Hungry Harvest prize packs at the end of the month.
Each pack will be filled with items to help you keep the healthy habits going with things like free produce, cookbooks, eco-friendly kitchen essentials & more! The more tasks you complete and the more you use the hashtag, the better your chances to win. It's good for you and good for the planet - so really, how can you lose?
Start today by deciding to take the pledge to join us and invite your friends to do the same. It's never too late to begin and anyone can join at any time. We hope you'll stick around for the whole month, but this isn't an all or nothing 30-day challenge. The goal is to make healthy choices for us and the environment - any day we're doing that kind of work is a win.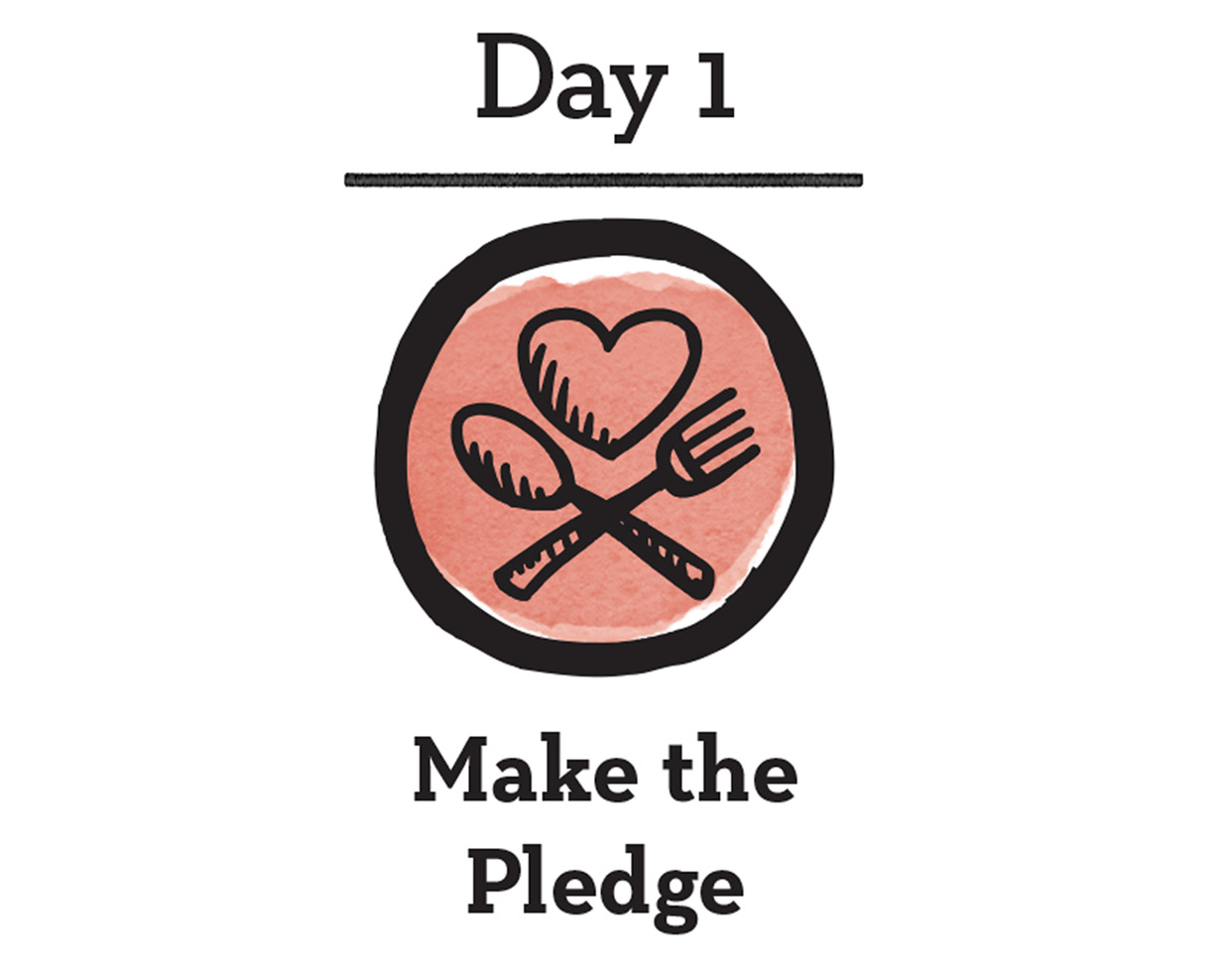 Good For You & Good For The Planet:
Sometimes the smallest steps make the biggest difference. By committing to becoming more mindful about your eating and cooking habits, you are also committing to lowering your carbon footprint. Congrats on making the pledge!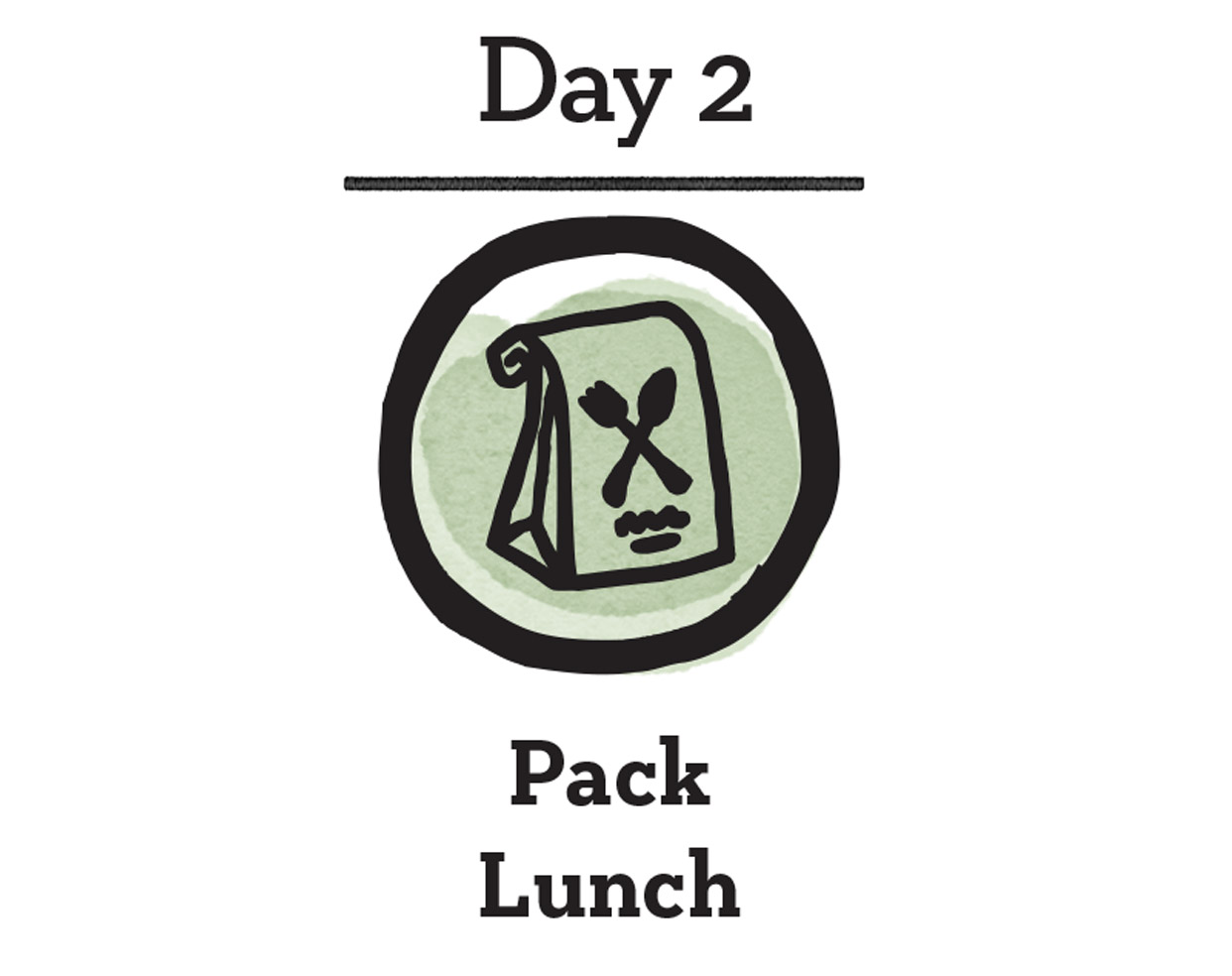 Good For You:
When you make your own lunch, you know exactly what's going into it – that usually means less calories, less salt & a smaller portion, not to mention you're probably using up leftovers & saving money!
Good For The Planet:
Packing in reusable containers cuts down on unnecessary packaging & processing while controlling the materials your food comes in contact with. Why not give our landfills a break and make it a litter-less lunch day?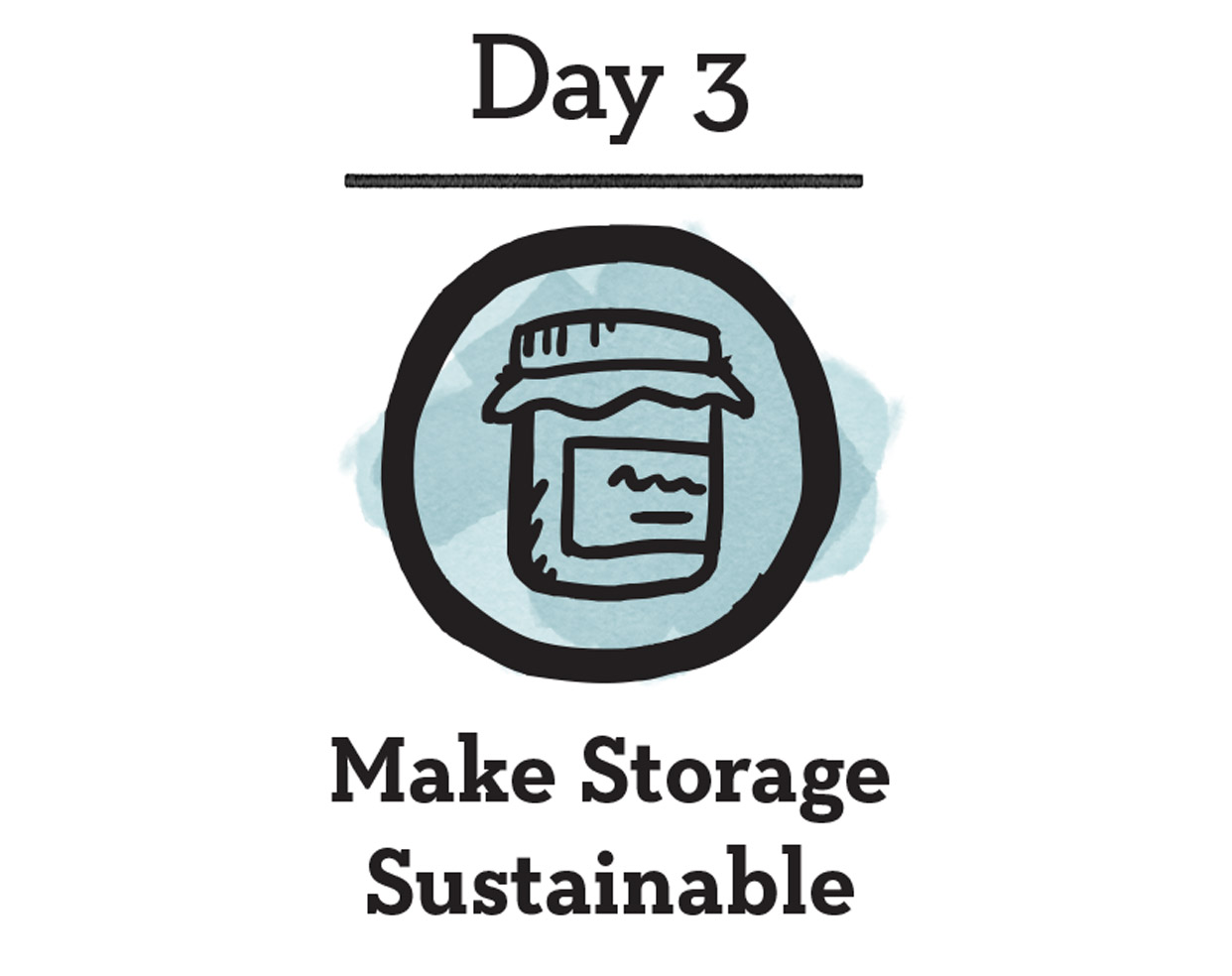 Good For You:
With so many options to choose from now like bees wax wrap, silicone lids, reusable bags, glass containers, etc. it's easy to save money by reducing the amount of single-use products we purchase. That's money that could be much better spent on say, what you decide to put in those containers instead.
Good For The Planet:
Plastic is the true enemy here. According to National Geographic, more than 448 million tons of plastic is produced every year and roughly 40% of that is used in single-use packaging. "It's unclear how long it will take for that plastic to completely biodegrade into its constituent molecules. Estimates range from 450 years to never."
Good For You:
Taking a day off from making purchases not only helps save you time & money, it also forces you to think more strategically about how & where you want to spend it. Adopting a practice of mindful consumerism encourages you to vote with your dollar to support companies that share your values.

Good For The Planet:
The mass production of items has a great impact on our natural resources, from those used to create them, package & transport them, to those used to eventually dispose of them. By pressing pause on this cycle today we give ourselves time to reflect on how we can ultimately play less of a role in this process.

Good For You:
The reports surrounding the health benefits of eating a plant-based diet are plentiful, and include lower rates of cholesterol, blood pressure, diabetes, and obesity. Some of the other perks that might not get as much attention include a clearer complexion, more energy and heightened taste buds. For a simple sample menu, check out our "vegan for a day" recipes on Instagram.

Good For The Planet:
A study by Tulane University and the University of Michigan found that almost 84% of food-related greenhouse gas emissions in the U.S were due to meat, dairy and egg consumption, while researchers at the University of Oxford reported that you could lower your individual food-related carbon footprint by up to 73% by eliminating meat and dairy products from your diet.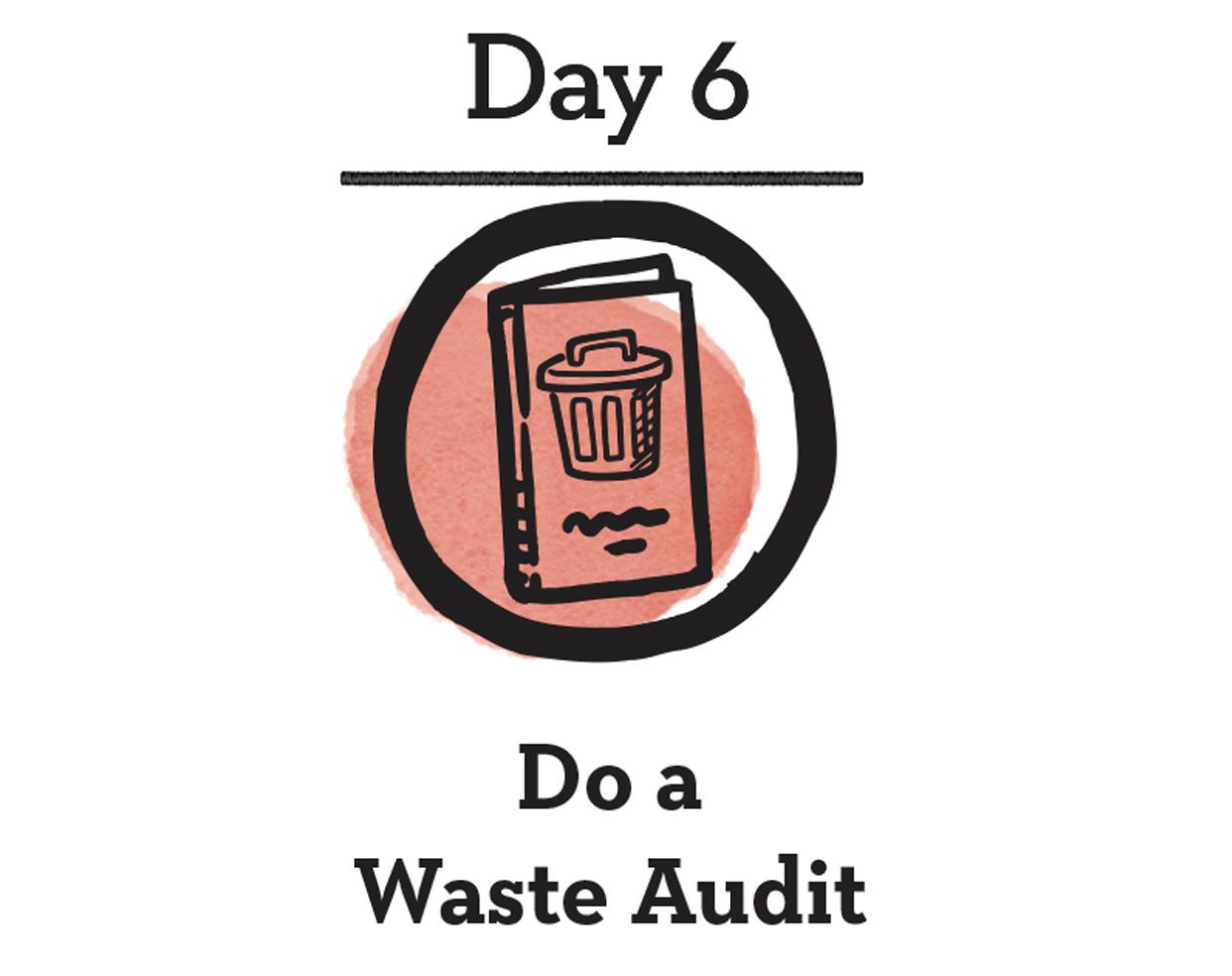 Good For You:
According to the EPA, the average American throws away about 4 pounds of trash each day. Hard to believe - right? The truth is it's easy to say we're all doing our part in the fight against waste, but it isn't until we really stop to look at how much or how little we're actually throwing away that can we truly understand if there is room to improve. To learn more about how to conduct your own waste audit check out our blog article.

Good For The Planet:
By writing down how much we waste, we can begin to recognize patterns that can better inform our decision making when it comes to how we shop, cook, store and eat in order to reduce the amount of trash that ends up in a landfill.
Good For You:
When you have a plan in place you are more likely to reduce your stress around what to eat, when to prepare it, while avoiding last minute impulse purchases, all of which likely contribute to eating a more nutritionally balanced diet.

Good For The Planet:
When you create a meal plan, you tend to buy only the food you need, and when you stick to your meal plan, you tend to use up all of the food you purchased. Those two steps alone make a significant difference in the fight against food waste.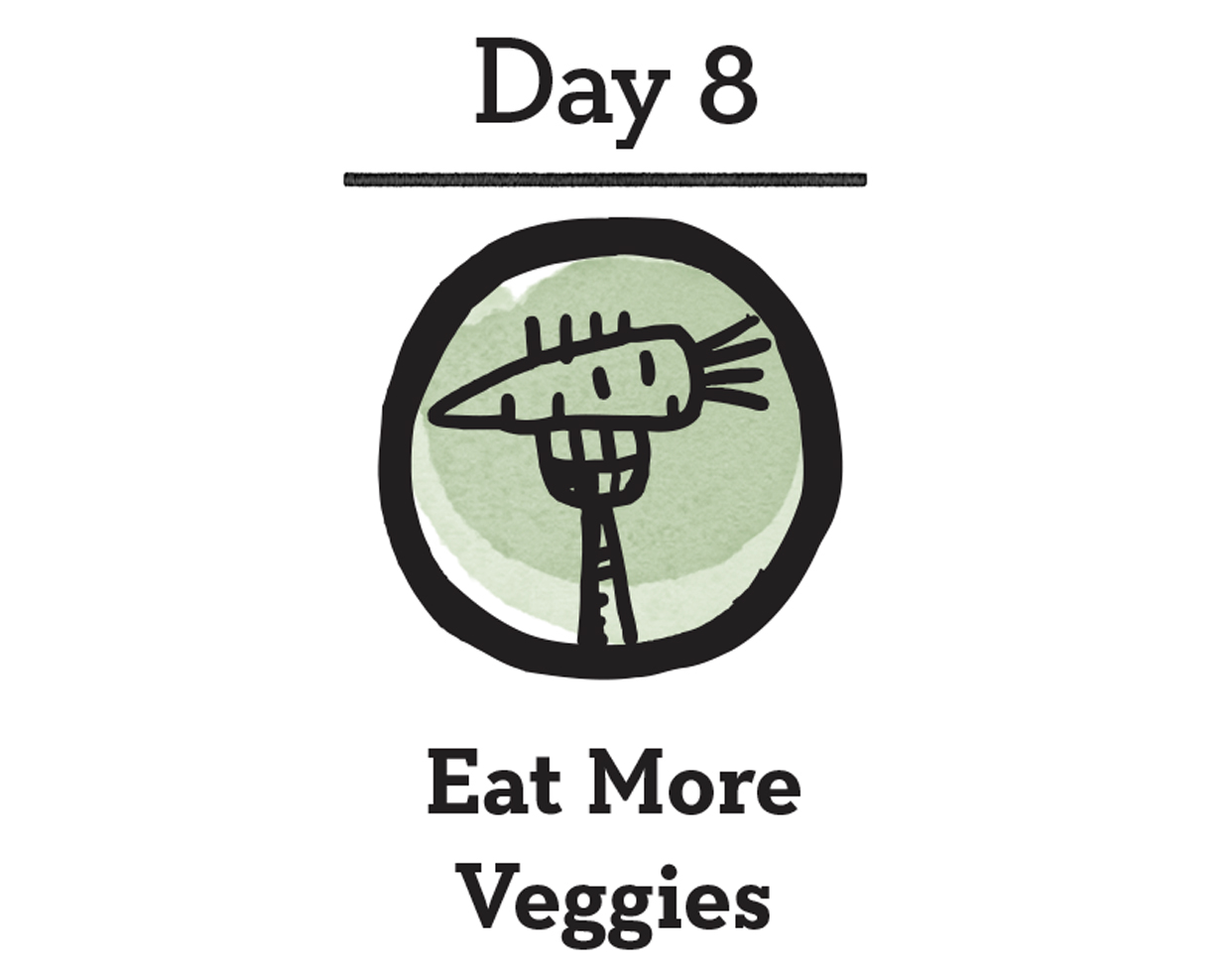 Good For You:
You don't have to go vegan or vegetarian to make a difference in your health. High in nutrients and fiber, an increase in eating more than five servings of vegetables a day can boost your immunity, help clean out your digestive system and even reduce the risk of life threatening diseases.

Good For The Planet:
When you center your meals around vegetables, there's less room on the plate for meat, which lowers your overall environmental impact, especially greenhouse gas emissions.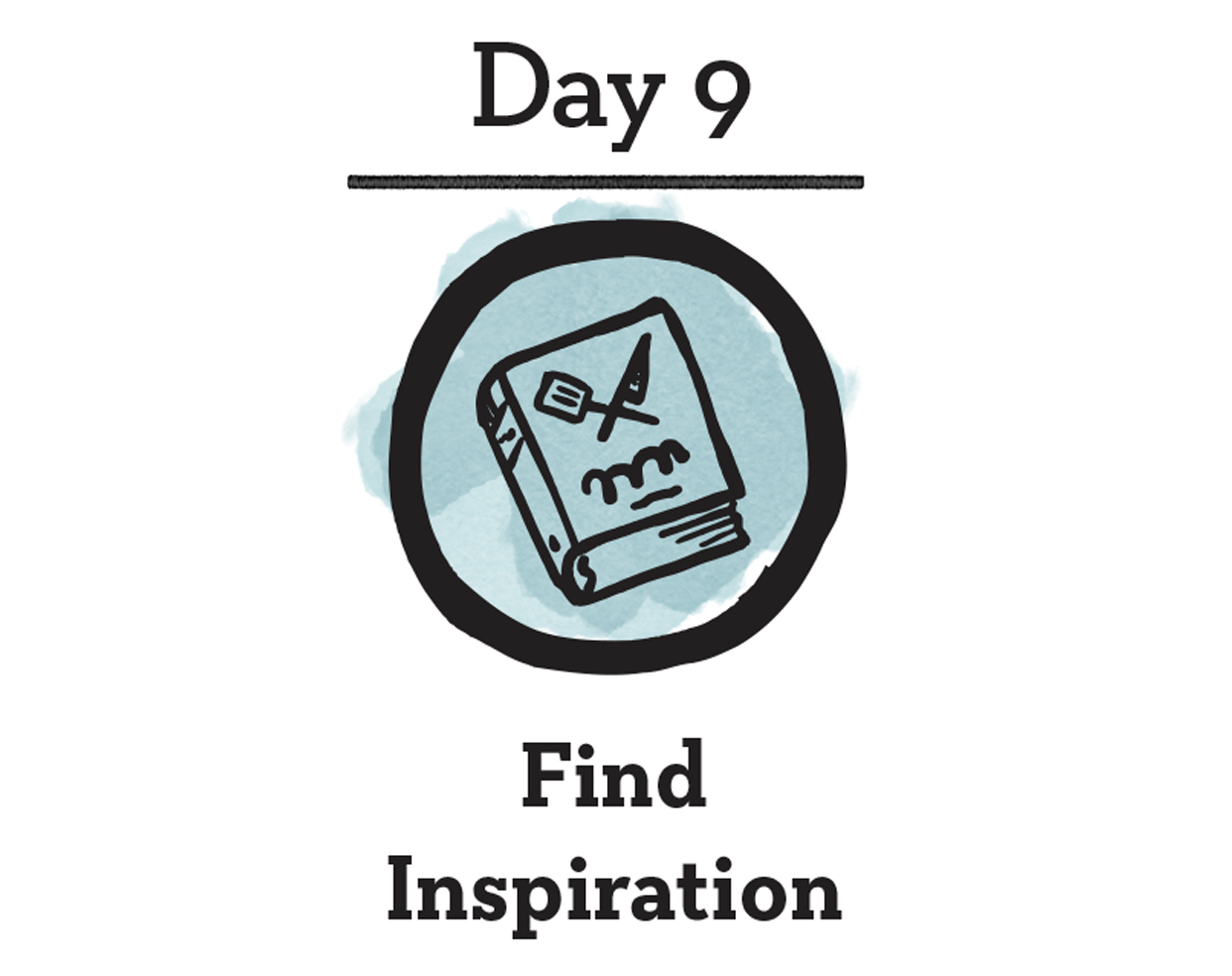 Good For You & Good For The Planet:
It's easy to get motivated to eat healthier and do more for our planet when you dig into some of the great resources out there. Our current list includes both old favorites as well as some newer options that we can't wait to check out.
In Defense of Food by Michael Pollan
The classic manifesto that pushes us reexamine the food we eat and why.
WASTED! The Story of Food Waste
An eye opening look into the problem of food waste and what some chefs are doing about it.
Chef's Table on Netflix
A beautifully produced series, each episode takes a personal, in depth look at what drives a single world renowned chef.
The Complete Vegan Cookbook: Over 150 Whole-Foods, Plant-Based Recipes and Techniques by The Natural Gourmet Institute
The ultimate vegan resource we've been waiting for, recently released and chock full of amazing tips and recipes.
A fun look at food through the lens of science and history.
Stories, personal essays, photographic portraits and a podcast that gives a voice to some of today's incredible female farmers.
We can't wait to see this new doc about the trials and triumphs that face a couple as they uproot their urban life to become farmers.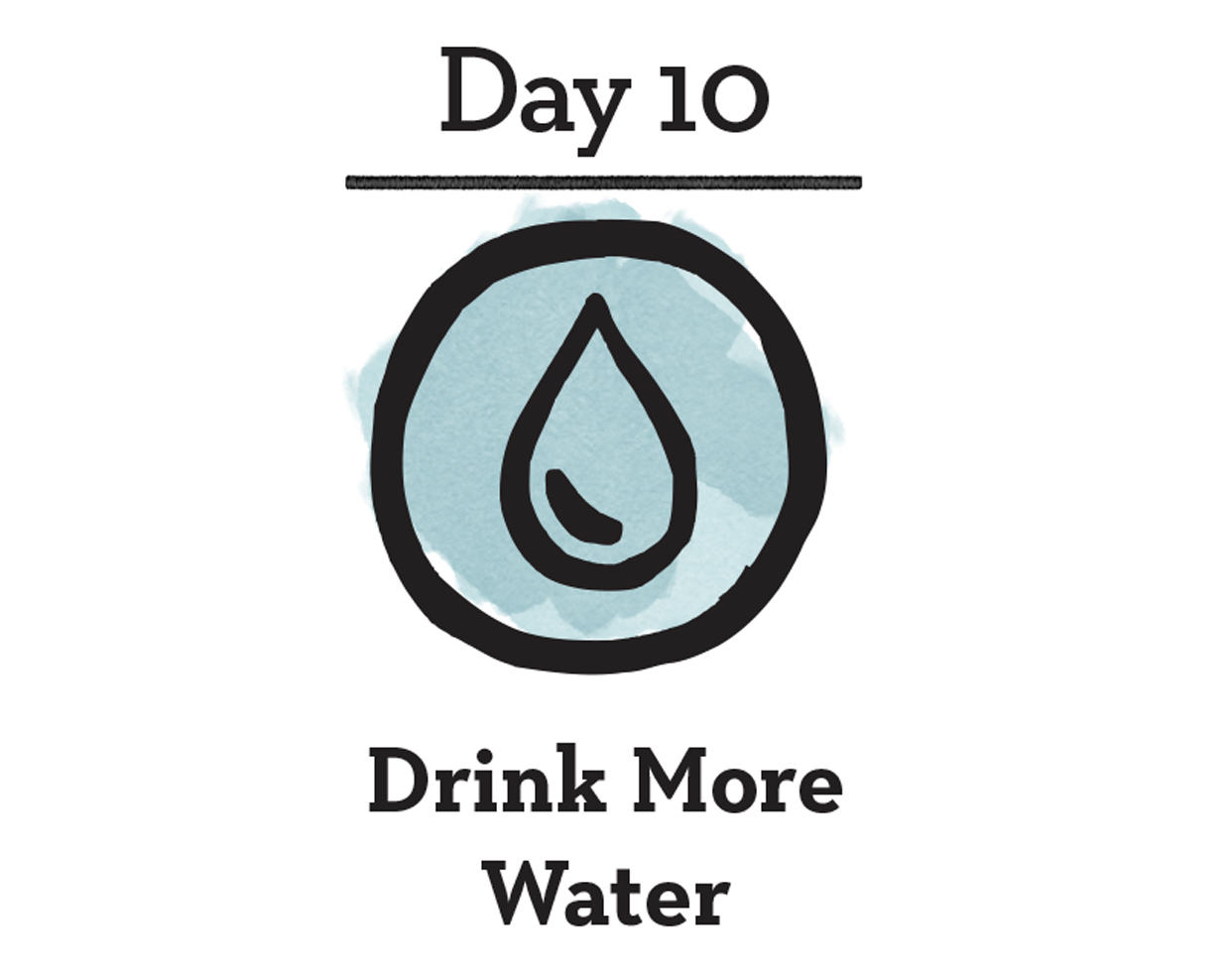 Good For You:
Did you know that your body is made up of about 70% water. Most of your blood and every cell in your body is made of water. Your brain is made up of 90% water! It makes sense then that you need to drink water to keep everything in check. Staying properly hydrated flushes out toxins, promotes regularity and can relieve and prevent headaches and fatigue.

Good For The Planet:
Tap water is approximately 3500 times cheaper than bottled water. When you use a reusable water bottle filled with water from the tap, you are not only saving money, but you are actually saving water too. Two gallons of water are wasted during the production process for every one gallon of water that goes into plastic bottles.
Good For You:
When you cook at home, you get the satisfaction of knowing exactly where all of the ingredients are coming from, most likely spend less money, and are probably eating healthier too. In fact, according to a study by Public Health Nutrition, people who frequently cook dinner at home end up consuming fewer calories than those who don't.

Good For The Planet:
Not only can you ensure that the food you're eating is sustainable, but David Pimentel, Professor Emeritus at the College of Agriculture and Life Sciences at Cornell University says you're also using less energy and resources when you cook at home - "it takes more than double the amount of energy to process food than it does to grow it."
Good For You:
Going zero waste isn't just good for the environment, it can be good for your body too - reducing your exposure to chemicals used to line cans and containers that may have leached out in packaged and processed foods. In addition, you might also feel a mental and emotional boost, knowing that your actions can make a significant difference over time.

Good For The Planet:
Simply raising your personal awareness of how much unnecessary packaging you use on a daily basis plays a big role in reducing the amount of trash you produce. When making purchases, ask yourself if the item can be composted, reused, or recycled? And if it can't, you might ask yourself if you really need it, if there is a more environmentally friendly option, or if there is a way to at least strip down the packaging.
Good For You & Good For The Planet:
One of the easiest ways to maximize your dollar and to reduce food (and packaging) waste in one step, is to use your veggie scraps to make your own stock or broth. Not only will you know exactly what's going in it, but it often tends to be more flavorful and contain less sodium than the prepackaged options. Plus it's super easy to make. Every time you cook, instead of composting your scraps, stems and peels, collect them and stick them in the freezer. You can save almost any veggie, like carrots, celery, garlic and onion skins - just make sure that they're clean and not moldy or rotten. Avoid cruciferous veggies, like cabbage, broccoli, cauliflower, and Brussels sprouts, as they'll give your broth a bitter taste. Once you have about gallon size container of frozen veggie scraps, simply throw them in a big pot with about 10 - 15 cups of water. Depending on what you've collected, feel free to add any other items that you think will help lend to the flavor like herbs or whole peppercorns. Bring to a boil and then let it simmer for about an hour. Once cooled, strain the liquid into airtight containers and store in the fridge for up to 5 days or in the freezer for well over a month.
Good For You:
On average, Americans tend to waste about one pound of produce per day. That might not sound like much, but over time it really adds up. To the tune of about $371 dollars on wasted food each year. According to the Natural Resources Defense Council, that number is more like $2000 a year for a family of four. Food scientist,. Dana Gunders, puts the numbers into perspective, this way: "Imagine going to the grocery store, buying three bags of groceries, dropping one in the parking lot, and not bothering to pick it up." Looking for creative ways to use up produce that might be a little past its prime? Check out our list of easy ideas on how to use up every piece.

Good For The Planet:
While the wilting lettuce in your fridge may lead you to believe otherwise, the documentary Wasted! reported that it can take up to 25 years for a single head of lettuce to decompose! Sealed in plastic, buried under pounds of garbage, and devoid of the necessary microorganisms, the wildly different environment of a landfill inhibits the flow of oxygen needed for food to break down. In fact, the decomposition process of fruits and veggies not only dramatically slows down, it actually creates an embalming effect, all while emitting methane gas, a significant contributor to global warming.
Good For You:
Not eating meat, even for a day, can have a great effect on your health. When you make fruits and vegetables the focus of your meal instead of meat, you tend to eat fewer calories and less fat, which can lower the risk of high blood pressure, cholesterol, stroke and heart disease.

Good For The Planet:
It's been shown that reducing meat consumption even just one day a week can have an impact on the rise in global temperature. In fact, according to the World Resources Report: Creating a Sustainable Food Future, "a vegetarian diet requires about half the land and emits about half the greenhouse gases as the average U.S. diet."
Good For You:
Save time, save money and plan an "eat the leftovers" night each week or when cleaning up after dinner, simply portion out your leftovers into containers to take to work or school for lunch. The good news is that by eating your leftovers, a lot of the work is already done for you. If you really want to get creative, try repurposing your meals to create shortcuts for new meals, like adding pre-cooked veggies into frittatas, sauces or rice bowls.

Good For The Planet:
The EPA estimates that about 94% of the food we throw away ends up in landfills or combustion facilities. But it's not just scraps and rotten produce that we tend to toss, uneaten leftovers make up a big portion of our waste. The NRDC reported that prepared foods or leftovers make up about 23% of the food that lands in trash cans.
Good For You:
When you get into the habit of carrying your own reusable coffee mug, you're more likely to fill it up at home - a savings that can really add up over time. Can't live without a stop at your favorite coffeehouse? Many major coffee chains and smaller local cafes will offer a discount or rewards program when you use your own cup.

Good For The Planet:
It's estimated that anywhere between 16 (on the conservative end) to 50 billion paper coffee cups are being thrown away in the United States alone each year. It is easy to assume that because they are paper, they are more eco-friendly, but the reality is that only 1 in 400 cups are actually recycled. This is because there's a plastic lining inside every cup to make them waterproof, which might be good for your hands and drink, but not so much for the recycling process.
Good For You & Good For The Planet:
Cooking with fresh herbs can help elevate any dish, but if they're not stored properly, you risk wasting both food and the flavor possibilities. So taking a page from one of our favorite new cookbooks, The Nimble Cook, author Ronna Welsh suggests putting fresh herbs in a Herb Tank to keep them in sight, ready to use, and lasting longer than in the produce drawer.

To make your own Herb Tank, wash your herbs in cold water being careful to pick off any yellowed leaves. Place a few ice cubes in a glass container with a lid. Add the herbs and top with a few more ice cubes, then fill with cold water until they are completely submerged. Store in the cold part of your refrigerator - not in the door. When the water begins to cloud, change it and add fresh ice. When you're ready to use the herbs, gently pull out what you need, shaking off excess water to dry. This technique is good for hearty herbs like rosemary, sage, thyme, parsley, mint and oregano and will help keep them flavorful and crisp for at least a week at a time.
Good For You:
Got produce you won't have enough time to use up? Prolong their life for up to a year by storing them in your freezer. Freezing helps retain the nutrient content of fruits and vegetables and is a simple way to keep your fruits and veggies on the ready all year long.

Good For The Planet:
About 40 percent of all food produced in the United States does not get eaten. Freezing what you can't use up can help make a dent in that number...be sure to put a date on what you freeze and every so often plan an "eat from the freezer night" to make sure everything gets eaten in due time.

Good For You:
Make the most of your home cooked meal by making a little extra. When you double your recipe, you can save yourself time and money down the road, by freezing half for another night when you need a quick and easy dinner. Finding yourself in a workplace lunch rut? Ask a friend who also tends to bring lunch if they would be interested in sharing meals. Take turns bringing in two servings of lunch. It will save you time, money and could introduce you to some new recipes.

Good For The Planet:
So if the goal is to reduce food waste, why should we cook more? Taking advantage of leftovers for lunches or last minute suppers goes a long way in reducing excess packaging, processing and the resources used along the way.
Good For You:
Forbes Magazine reported that pickle juice works better than water at reducing muscle cramps. Pickle juice has a variety of antioxidants, including vitamin C and E. Plus, your digestive system could benefit from it.

Good For The Planet:
Quick pickling is a good way to use up veggies that might be a little past their prime and it's super easy to do. There are tons of recipes online, but the premise is the same. Make a brine by boiling water, vinegar, salt and sugar (optional). Pour the cooled brine into a jar filled with clean vegetables and seasonings of your choice. Garlic, fresh dill, mustard seeds, peppercorns, crushed red pepper and onion make great additions. Seal the jar and keep in the fridge for at least 24 hours before eating. Refrigerator pickles will last in your fridge for months!
Good For You & Good For The Planet:
Happy Earth Day! Go outside and enjoy this beautiful planet. Using all the eco-friendly tactics you've mastered so far, you can truly make it a green experience by packing a vegetarian meal featuring lots of Hungry Harvest fruits and veggies stored in reusable containers.
Good For You:
DIY cleaner is easy to make* and can eliminate a lot of potentially dangerous chemicals that you might not be aware you are breathing in or absorbing on your skin. Plus, most DIY cleaners cost less than $1 to make compared to $5 bottle for most store-bought products.

Good For The Planet:
The chemicals found in conventional cleaning products can have an extremely negative impact on our environment, especially our waterways. Cleaning chemicals are often hard to remove by wastewater treatment plants – when they don't readily break down they can become toxic to sea life.

Make Your Own:
Our favorite all purpose cleaner only requires a jar filled halfway with orange peels, enough vinegar to top it off (make sure the peels are completely covered to prevent mold) and a little bit of patience (store for two weeks in a cool dark space) before using. Voila! An eco-friendly cleaner that smells as good as it looks.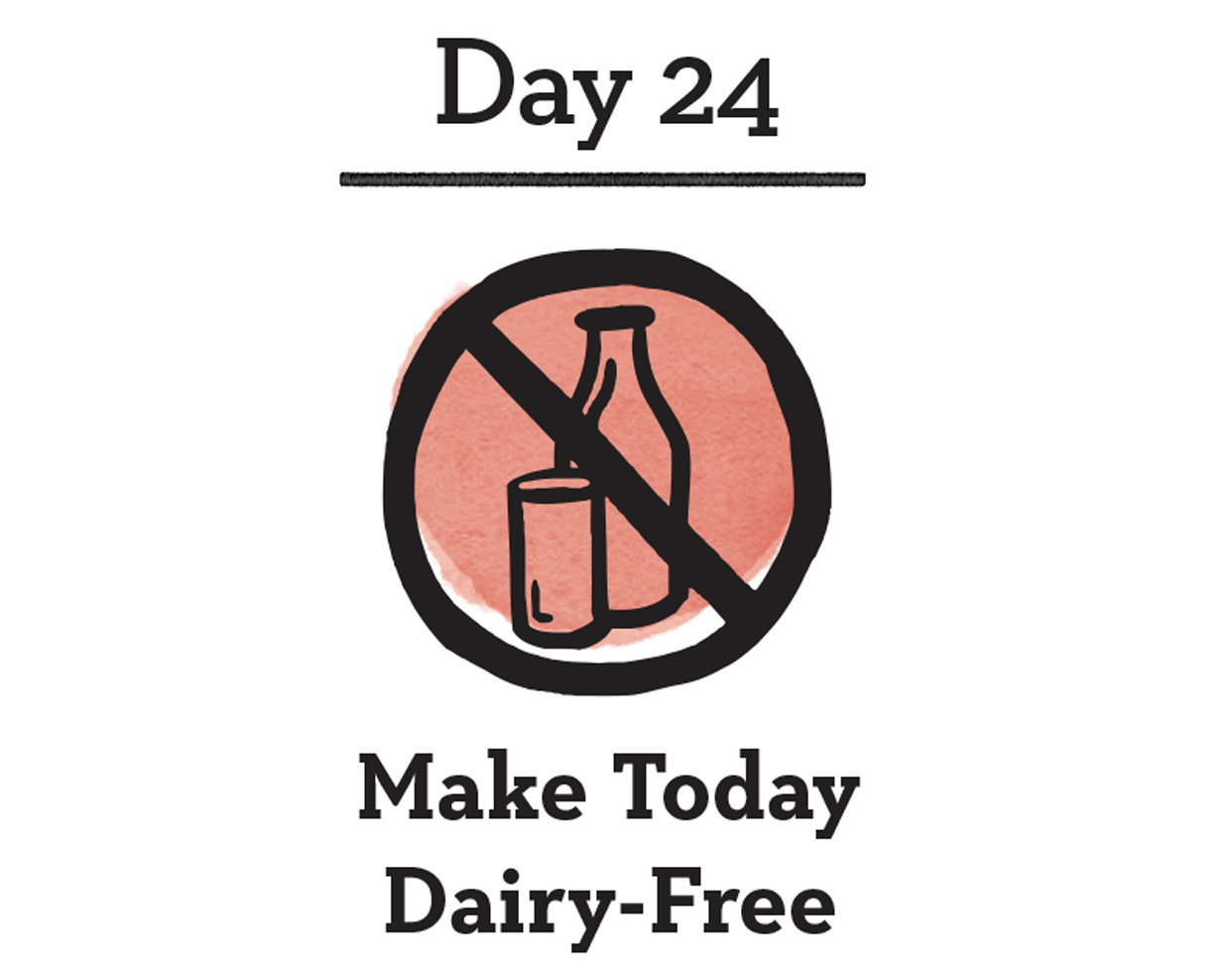 Good For You:
Dairy is listed as one of the eight most common foods that people are allergic too, but its prevalence in the Standard American Diet might make that difficult to detect. Approximately 70% of the world's population may be lactose intolerant. Even if you produce lactase (the enzyme needed to break down the lactose in dairy) it is possible for your stomach to feel upset or bloated by consuming dairy. So try giving your stomach a break today and see if you notice a difference.

Good For The Planet:
According to the NRDC, our love of dairy is on the rise and it's not so good for the environment. The energy it takes to raise cows (feed and water especially) combined with methane the animals release is taking a heavy toll on our planet. Switching to more plant-based foods even a few days a week can help combat climate change. A report from the World Resources Institute states "the average American, could cut their diet's environmental footprint in half just by eating less meat and dairy."
Good For You:
Sure those store bought snack packs are convenient, but they're often not the most nutritious option. When you pack your own snacks for work and school, you not only know your portions, but are more likely to pick something healthier.

Good For The Planet:
When we portion out our snacks from home in reusable containers, we help cut down on single use packaging while using our dollar to send a message to companies about the kinds of products we want to purchase.

Good For You:
Reusable bags have become so commonplace now, it is almost hard to believe more states haven't followed California & New York's lead by banning single-use bags altogether. Even still, most stores now offer a discount as an incentive for you to use your own bag, so keep a stash in your car, purse or pocket so you're never without when you're out and about.

Good For The Planet:
If the images of discarded plastic bags crowding our sea life and waterways aren't enough, consider this, according to Curious Earth, one reusable bag equals 170 plastic bags! That's a lot of single use plastic that we can easily prevent from entering our eco-systems!
Good For You & Good For The Planet:
Healthier than jarred or canned options, making a soup or sauce is a great way to use up veggies that are past their prime but still perfectly edible. Similarly, smoothies are a great way to use up overripe or softening fruit. So whip up a big batch and portion out extras in your freezer for a quick and easy dinner.
Good For You:
Cooking with veggies outside of the constraints of breakfast, lunch and dinner can not only be fun, but is ultimately healthier as well. Because if you're going to treat yourself to something sweet, why not make your calories work for you with the added nutritional boost you get from vegetables?

Good For The Planet:
With so much of the food we waste ending up in landfills, anything we can do to prevent that from happening should be considered a win. So get your bake on and make something delicious, healthy and waste free by using up veggies in a creative and unexpected way.
Good For You:
The root to stalk movement has quickly been gaining momentum in many restaurants across the country, and your kitchen can follow suit! Think of all nutrients and creative opportunities that are missed by throwing away some of the best parts of a fruit or vegetable. Use your imagination and have fun with those carrot tops, peels and stems. You never know, you might discover your next favorite recipe.

Good For The Planet:
Going zero waste doesn't need to seem as daunting as it sounds. One easy way to start is to make use of the whole vegetable or fruit. From pestos & jams to broths & braises, the possibilities are endless and luckily, the recipes are now plentiful too.
Good For You & Good For The Planet:
Congratulations you made it to the end of the challenge! What better way to end 30 Days of healthy living than to finish strong and use up every fruit & veg in your Hungry Harvest box, while making room in your fridge for your next delivery.

Thank you for joining us on this journey, we hope you had fun and possibly learned a thing or two along the way. For our bodies, our communities and our planet, together we are making a difference one box of produce at a time.